Obit: The World's Foremost Authority
"Professor" Irwin Corey, an actor and comedian known as "The World's Greatest Authority," died February 6, 2017 at the age of 102. Professor Corey's career spanned eight decades. He was described by theater critic Kenneth Tynan as "a cultural clown, a parody of literacy, a travesty of all that our civilization holds dear and one of the funniest grotesques in America. He is Chaplin's clown with a college education."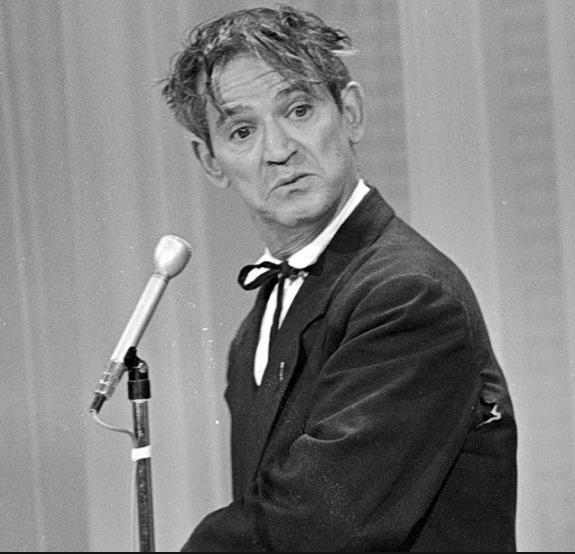 Dressed in a long black coat with tails and a string tie, he appeared in television shows hosted by Steve Allen, Ed Sullivan, Johnny Carson and David Letterman, to name but a few. His performances parodied pretentious "experts" with his combination of impressive vocabulary used in nonsensical, drawn-out sentences. He satirized social institutions, even running for president on Hugh Hefner's Playboy ticket in 1960. His career included vaudeville, stage, radio and movies.
Typical of a live performance is a 90 second talk in 2011, transcribed from a laugh-filled recording that went something like this:
But we all know that protocol takes precedence over procedure. This parliamentary point of order based on the state of inertia developing a centrifugal force which is used as a catalyst rather than a catalytic agent which hastens a chain reaction and remains the same in a condition prior to its inception. The focal point which is used as a tangent in that simile of thought in the development of ideas based on the ideology that the combination assume voices will be looking at a run [obscured by laughter] rather than accept the dullness of dreary reality and we know that the bile is secreted through the pancreas. However, we must not negate the concept that although we find in this vast area and we know that our party stand by our party negates the necessities and make it possible for us to view life and realize that salvation is its own reward.
In a world where the UK justice secretary argues for exiting from the European Union by saying that the British people "have had enough of experts," Professor Corey is talking to us. He is remembered here on Fifty Year Perspective, not with the intent of minimizing the importance of the issues faced today, but to remind us that it is healthy to take time to laugh.