A Role for Business
Here is an agenda for an organization committed to achieving several sustainability goals.
Reduce water use to level of 2008 or below
Use only sustainably-sourced agricultural raw materials
Improve livelihoods of small-scale producers and retailers
Expand opportunities for women in management and communities
Advance human rights wherever we operate or source material
Improve the health and hygiene for more than a billion people by 2020
Improve nutrition for hundreds of millions of people
Reduce greenhouse gas emissions to level of 2008 or below
This would be a tall order for even the largest non-governmental organization. It is comparable to the United Nation's Millennium Development Goals in its breadth and boldness. And in fact, this boldness goes beyond anything that would originate from even a large NGO. This is a plan put forth by one of the world's largest multi-national corporations. This is Unilever's Sustainable Living Plan 2013.
Unilever's plan is to make business part of the solution to the problems of water scarcity, rising food and energy costs, climate change, and the increasing gap between rich and poor. Not without a view to the bottom line, the plan states: "Our first priority is to our consumers – then customers, employees, suppliers and communities. When we fulfill our responsibilities to them, we believe that our shareholders will be rewarded."
Call it enlightened self-interest, but what is better than a win-win plan? Similarly Dow Chemical collaborates with The Nature Conservancy (TNC) in an effort to assign costs to environmental impacts as part of its profit and loss statements. While Dow has been associated with a number of products that were ultimately banned or restricted, Dow's association with TNC on a five year project indicates a commitment to sustainable business practices and to sharing findings publicly in the hope of influencing other businesses, governments, and NGOs.
Pierre Omidyar, founder and chairman of eBay, gave up his executive role at eBay to focus on philanthropy. He formed Omidyar Network to invest in entrepreneurs and their visions for improving people's lives and communities. Investments have included providing high-quality, affordable schooling where such opportunities are scarce; using technology to extend financial services to people in developing countries as well as American families underserved by financial institutions; and encouraging the exchange of ideas and providing access to information by promoting accessibility and affordability of mobile technologies.
Corporate social responsibility (CSR) is a term that has been applied to activities such as those described above. The term is loosely-defined and subject to manipulation. The Wall Street Journal's on-line financial site, Market Watch, releases a Corporate Social Responsibility Weekly Recap, aggregating press releases that detail individual businesses' contributions to social, environmental, and humanitarian improvement. A sampling of recent releases included the following:
Dell's reuse of plastics from recycled electronics
Motorola Solution's support for conflict-free mining in Democratic Republic of Congo
Walmart's commitment to hiring veterans
Anheuser-Busch InBev's commitment to reduce logistics carbon emissions
IBM and Dow's developing employee leadership skills in Ethiopia
From this sample it is clear that the range of issues being addressed is very broad, geographically, environmentally, and socially. CSR is supported by corporate executives who see the need to improve the communities where they do business, and by the investors who believe that social responsibility will increasingly become a metric for evaluating investment worthiness of corporations.
Most importantly, the potential for social and environment improvements that can be achieved by the private sector is multiples of what can be accomplished by government aid. The Center for Global Prosperity (CGP), a part of the Hudson Institute, analyzes flows of capital between countries. Its 2013 report states, "Of all capital moving from developed to developing countries, 80% is private and 20% is government aid." Non-government aid to developing countries includes philanthropy, remittances (that is, money returned to the home country by migrant workers), and private capital flows. CGP's findings for the U.S. reveal that each of the three sources of private capital exceeds the total of U.S. official development assistance.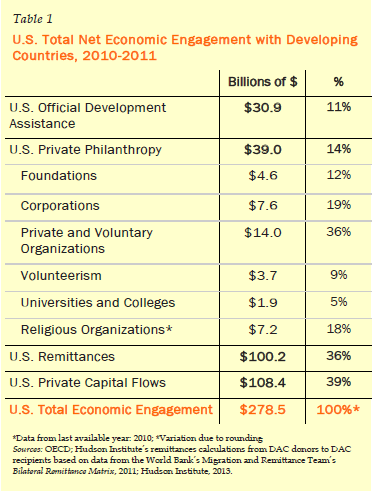 Source: The Index of Global Philanthropy and Remittances 2013, by the Hudson Institute Center for Global Prosperity